Red. Scarlet. Crimson.
Beautiful bold red is a a dramatic color that throws a punch where-ever it is found. When used in interior decorating, a little goes a long way. Take a couple of red throw blankets or cushions and you will instantly transform a space, and make a statement. In this home, red mohair blankets add extra drama to these beautiful sumptuous spaces.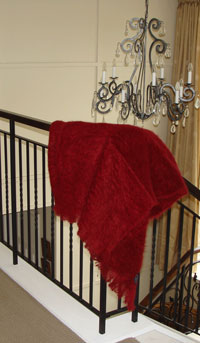 If you would like a clearer, brighter red, consider 'Scarlet from our 'Designer Hues' collection, or for a red with a hint of pink, take a look at 'Ruby' also from our 'Designer Hues' collection or 'Tamarind' for a deep rich red. We are happy to provide thread samples to help you find the best match.